Walk is the hardest gait to master at a high level of training – as is well known. Yet much can be learnt from a careful schooling at the Walk.
Let's take an example Walk score and its breakdown data.
The overall score for this ride was 6.11.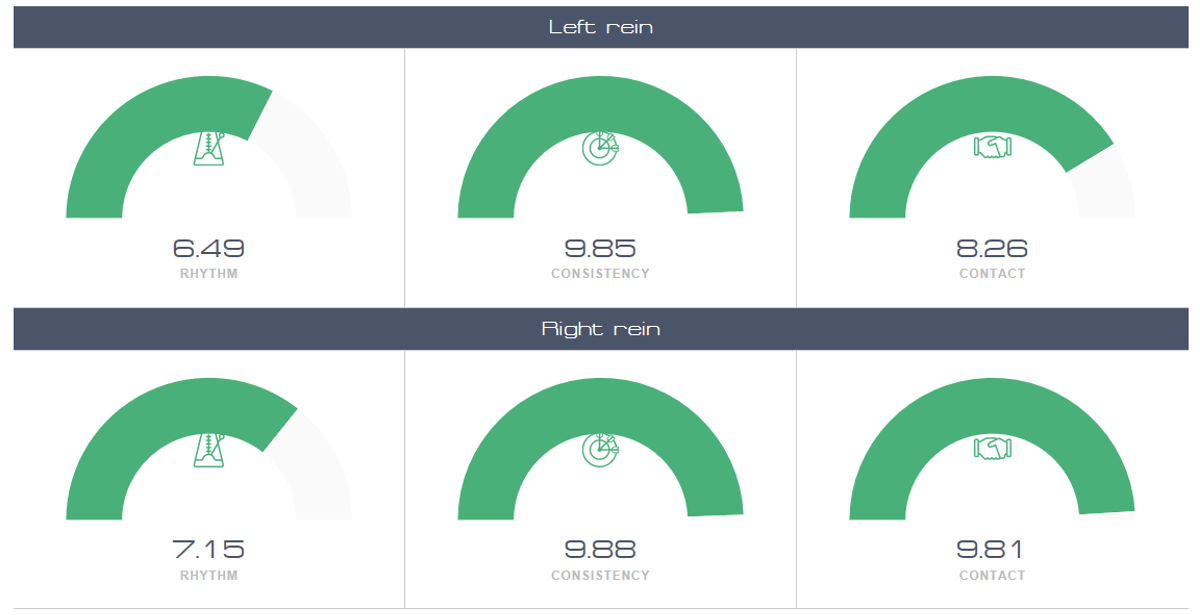 This is typical for walk at a novice level (horse or rider). Notice that the contact is very light, particularly so on the left rein. On the right rein there is some reasonable average weight in the contact. The very light contact on the left rein has reduced that component score to 8.26. A mark of 10 starts to take effect when the average weight in the reins goes above 950 g (around 2 lbs).
Despite this the consistency in the contact weight is very good. What this means is that the rider and horse are comfortable in what they are doing and not experiencing loss of balance or concentration during the walk.
The Rhythm scores however are low and particularly so on the right rein – where the contact was lightest. This is directly as a result of the rein tension pattern being too noisy for the horse's stride pattern to be reported through the rein tension. The rhythmical head movement of the horse must be more prominent in the rein tension pattern.
As a Coach
You will have observed that there was little in the way of contact and that there was a lack of engagement and purposeful movement in the horse. The rider's score will confirm your view.
What to advise
There is a need for the horse to engage with the rider's seat and weight aids so that he is willing to take the rider forwards into a stronger contact – As a coach you will give the usual advice on methods to improve this
What to expect
There are at least three things that might happen with the rider following your advice;
The horse takes a stronger contact and the Contact scores for left and right reins immediately improve to 10 – BUT – the rhythm scores may show no improvement – Partial success!
The horse takes a stronger contact and the rhythm scores also improve – Complete success!
Despite your advice both rhythm and contact scores are unchanged or even become worse – Lack of success
Going Forward
For outcomes 1 and 2 there should be seen a steady improvement in the overall Walk scores. Provided the horse is comfortable, the steadiness in the rein contact (Rhythm) will improve.
For outcome 3 you will have to consider whether the rider or horse is able to progress at this stage. Importantly you may also be able to consider issues such as the horse's comfort and condition (maybe due to ill-fitting tack or a physiological condition).